1 lb reclaimed is 1 lb not made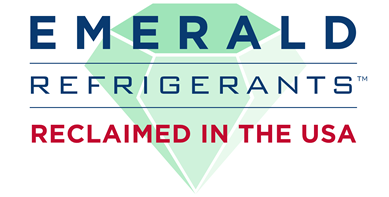 This simple phrase packs a punch and encompasses one of Hudson Technologies core beliefs. For every pound of refrigerant that is reclaimed and reused it prevents a pound of refrigerant being newly manufactured, reducing both the impact of the energy associated with manufacturer of new refrigerant as well as unnecessary GHG refrigerant release. We believe it is our responsibility to provide the HVACR industry with reclaimed, renewed refrigerant that can continue to be used, and reused, forever. And that belief led to our EMERALD Refrigerants™ range of certified verifiable reclaimed refrigerants, recovered and "made" here in the US.
WITH OUR AHRI CERTIFIED LABORATORIES, AND AS THE LARGEST REFRIGERANT RECLAIMER, YOU CAN BE ASSURED EMERALD REFRIGERANTS™ MEET OR EXCEED AHRI 700 SPECIFICATIONS AND CONTAIN ONLY CERTIFIED VERIFIABLE RECLAIMED REFRIGERANT.