WOODCLIFF LAKE, NJ – November 15, 2022 – Did you know that women make up 50% of the population and 47% of the U.S. workforce, but they make up less than 2% of the HVACR industry? (via ACHRNews.com) Women in HVACR is a non-profit organization dedicated to overcoming this disparity by encouraging and supporting the professional growth of women.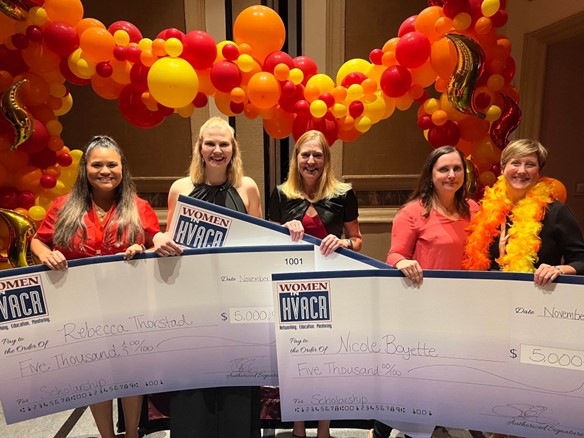 From November 2-4, Women in HVACR celebrated their 20th anniversary at their annual conference in Phoenix, Arizona. This event shattered previous years' attendance records and was an exceptional opportunity for women interested in growing their network and gaining more knowledge about the industry. Hudson Technologies had the pleasure of participating as a sponsor and sent two representatives, Mary John Coats and Genesis Castillo, to exhibit the company's offerings and provide career path guidance.
Both team members thought it was great to meet and connect with other leaders in the HVACR industry. Mary John, a successful account manager with over fifteen years of experience summarized the event:
"Attending the Women in HVACR Conference was a wonderful experience! The networking opportunities along with the speakers and breakout sessions were interesting, entertaining, and full of informative content! Keynote topics ranged from setting gratitude practices to honing negotiation, presentation, and leadership skills."
In addition to Hudson's attendance, its sponsorship yielded the opportunity to award six scholarships to women passionate about seeking a career in the HVACR industry. Genesis Castillo, Hudson's Talent Acquisition Manager added, "It was an honor to recognize and award these winners. Hudson strives to do everything it can to create a more welcoming field for all genders and diverse backgrounds."
Building off the success of the conference, Women in HVACR will continue to inspire and empower all females in the industry. Hudson Technologies shares these goals and is proud to be part of a larger movement. Together we can assist in promoting women's advancement, raising awareness, and leading our industry into the future.
For more information, visit https://www.womeninhvacr.org/
---