WOODCLIFF LAKE, NJ – MAY 4, 2022 – Hudson Technologies, Inc. (NASDAQ: HDSN) announced results for the first quarter ended March 31, 2022.
For the quarter ended March 31, 2022, Hudson reported revenues of $84.3 million, an increase of 149% compared to revenues of $33.8 million in the comparable 2021 period. First quarter revenue growth was driven by increases in volumes and selling prices for certain refrigerants during the period. Gross margin in the first quarter of 2022 increased to 54%, compared to 27% in the first quarter of 2021, mainly due to the significant increase in selling price without a material appreciation in the cost basis of certain refrigerants sold. Hudson reported operating income of $38.3 million in the first quarter of 2022, compared to operating income of $1.7 million in the prior year period.
The Company recorded net income of $29.6 million or $0.66 per basic and $0.63 per diluted share in the first quarter of 2022, compared to a net loss of $1.1 million or ($0.02) per basic and diluted share in the same period of 2021. Net income during the first quarter of 2022 included $4.6 million of one-time interest expense associated with the refinancing of the Company's term loan. As previously announced, during the first quarter the Company entered into a new $85 million term loan agreement with TCW Asset Management, LLC and has amended its existing asset-based lending facility to increase the overall facility to $90 million.
Brian F. Coleman, President and Chief Executive Officer of Hudson Technologies commented, "Our 2022 selling season is off to a strong start, with record first quarter revenues and a path towards another record full year. The first quarter demonstrated substantially improved gross margin and significantly enhanced profitability as compared to last year's first quarter. Our first quarter performance reflected the continued upward trend in average pricing for certain refrigerants and also benefitted from increased sales volume as we continue to focus on strategic customers who value our sustainability offerings. We previously communicated longer term targets for 2023 through 2024 with annualized revenue and operating income of $350 million and $72 million, respectively. With our visibility today, assuming the first quarter pricing trend continues, we believe we are on a path to reach those longer term targets at a faster rate than originally expected, as we begin to experience the initial impact of the AIM Act and its regulations. While our first quarter gross margin was particularly strong, we believe margin performance for the full year will moderate to levels similar to that of last year. In addition, based on current pricing trends we should see revenues in excess of $270 million in 2022.
"With the start of 2022, our industry must now comply with the AIM Act, which mandates a 10% stepdown in production and consumption allowances for virgin HFCs in both 2022 and 2023. Beginning in 2024, with the 40% reduction in the baseline, we expect to experience a significant inflection point for our business model and sustainable offerings. HFCs are currently the most commonly used refrigerants and as a leading reclaimer, we are uniquely positioned to fill the anticipated HFC supply gap as virgin production is phased out. With our reclamation capabilities and robust distribution network, Hudson is poised to continue to lead the industry's orderly transition to greener, more environmentally-friendly refrigerants, and we welcome this opportunity to promote the circular economy of refrigerants and the transition to cleaner, more efficient next generation cooling equipment and gases. We're energized by the opportunities we're seeing to expand our market share and leadership role in the refrigerant marketplace throughout 2022 and for decades to come," Mr. Coleman concluded.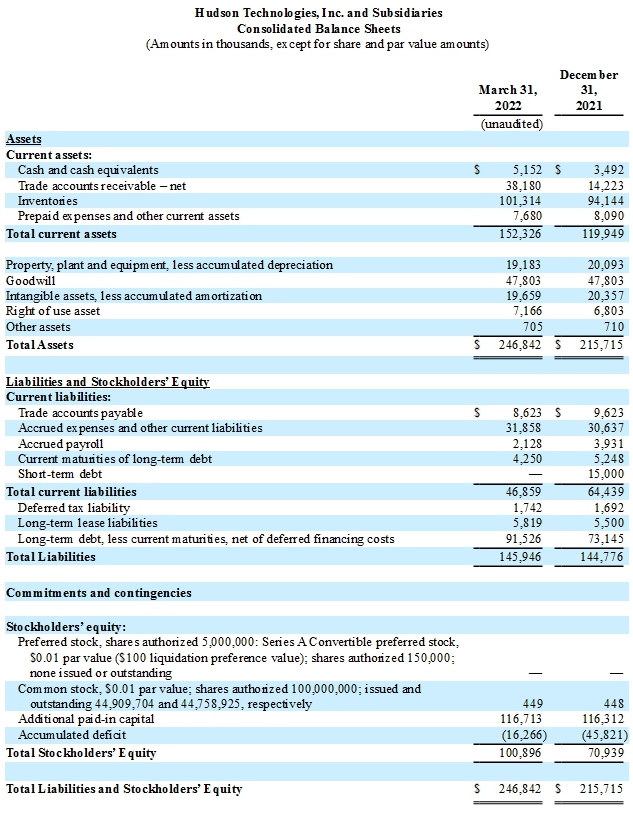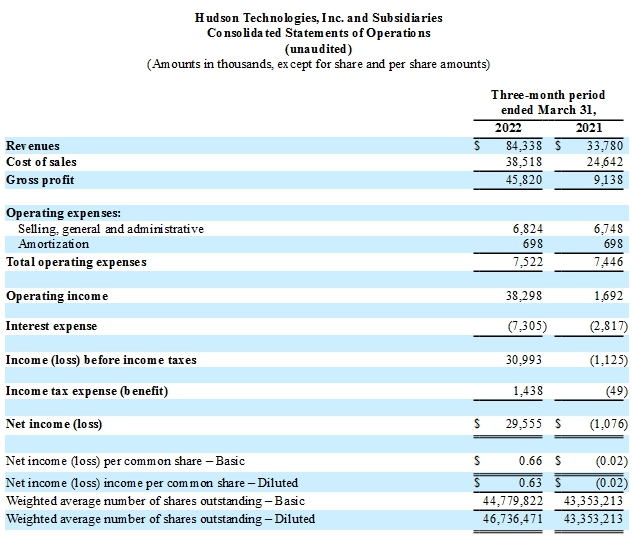 ---