WOODCLIFF LAKE, NJ – MAY 3, 2023 – Hudson Technologies, Inc. (NASDAQ: HDSN) announced results for the first quarter ended March 31, 2023.
For the quarter ended March 31, 2023, Hudson reported revenues of $77.2 million, a decrease of 8% compared to revenues of $84.3 million in the first quarter of 2022. The decrease is primarily related to decreased selling prices for certain refrigerants during the period as well as lower sales volume in the quarter as compared to the first quarter of 2022. Gross margin in the first quarter of 2023 was 39%, compared to 54% in the first quarter of 2022. Hudson reported operating income of $22.7 million in the first quarter of 2023, compared to operating income of $38.3 million in the prior year period. The Company recorded net income of $15.5 million or $0.34 per basic and $0.33 per diluted share in the first quarter of 2023, compared to net income of $29.6 million or $0.66 per basic and $0.63 diluted share in the same period of 2022. 2023 and future periods will reflect a statutory tax rate of approximately 26%, excluding certain temporary and permanent tax adjustments, while the 2022 period reflects a very low effective tax rate due to the use of then existing NOL carryforwards.
Hudson reduced total outstanding debt from $46.8 million at December 31, 2022 to $43.6 million at March 31, 2023. Stockholders' equity improved to $191.5 million at March 31, 2023 as compared to $174.9 million at December 31, 2022.
Brian F. Coleman, President and Chief Executive Officer of Hudson Technologies commented,
"As we move through the 2023 selling season, we are focused on continuing to drive the momentum we've built over the past eighteen months. As anticipated, we faced a tough comparison to the extraordinary gross margin performance during the 2022 selling season, and our first quarter 2023 results reflected this dynamic. During the first quarter of last year, we saw significant sales price increases without a corresponding increase in inventory price, which resulted in unsustainably high gross margin. First quarter 2023 gross margin moderated as expected compared to the first quarter of 2022, but still came in ahead of our long-range target gross margin of 35%. Additionally, we achieved strong profitability and generated cash flow from operations that was two times greater than cash flow generated in the first quarter of 2022. As the selling season gets underway in earnest, we are confident that our leadership position in the industry, operational excellence, proven distribution network and longstanding customer relationships position us well to drive continued strong performance.
"From a regulatory perspective, for 2023 a 10% stepdown in virgin HFC production and consumption allowances mandated by the AIM Act remains in place. In 2024, a 40% baseline reduction in HFCs will begin, and as we've previously stated, we believe the current phasedown schedule will benefit our business by driving higher demand for our reclaimed refrigerants as virgin HFCs become constrained. Longer term, we see a tremendous opportunity for the increased use of reclaimed refrigerants as industry stakeholders embrace the environmental benefits of using greener refrigeration technology and equipment, and as federal and state legislation increasingly mandates the use of recovered and reclaimed refrigerants.
"With our industry-leading reclamation technology and decades of experience, Hudson is ideally positioned to provide sustainable and responsible refrigerant management to support the industry transition to greener refrigerant and cooling equipment utilizing lower global warming potential refrigerants. We are energized by the opportunity to meet the refrigerant needs of the growing installed base of cooling and refrigeration systems as well as providing conversion and servicing options as equipment requirements evolve," Mr. Coleman concluded.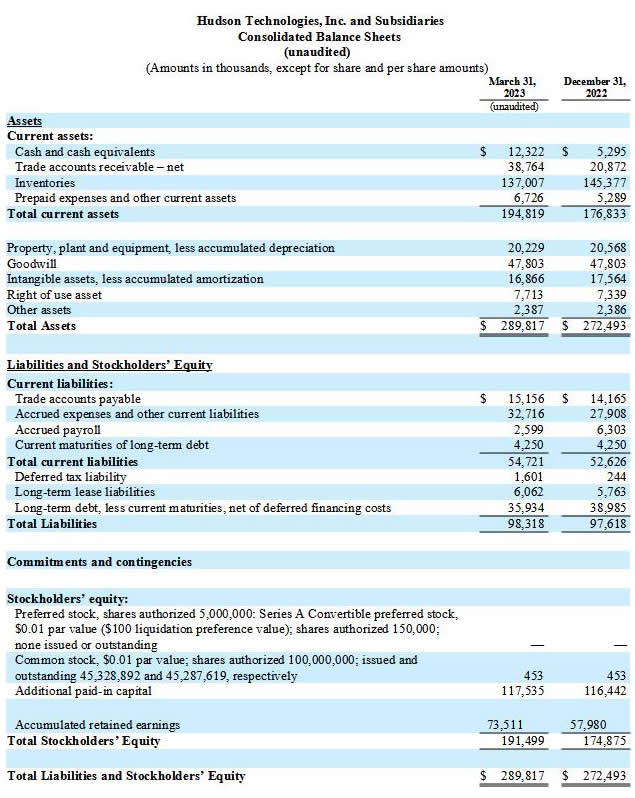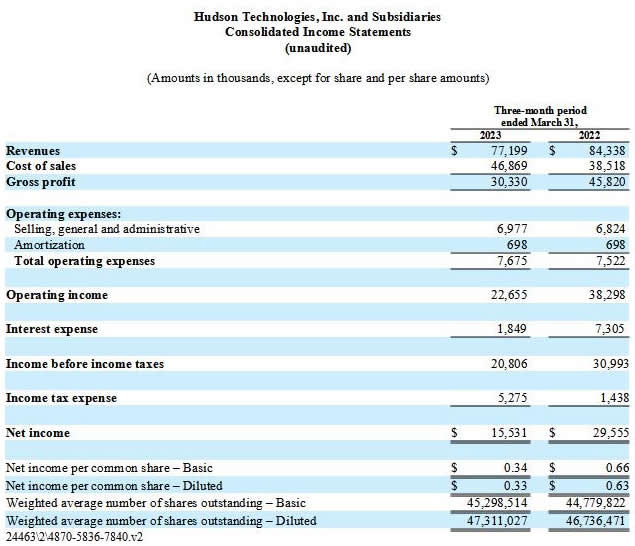 ---