Pearl River, NY – March 4, 2020 – Hudson Technologies, Inc. (NASDAQ: HDSN) announced results for the fourth quarter and year ended December 31, 2019.
For the quarter ended December 31, 2019 Hudson reported revenues of $25.8 million, slightly higher than revenues of $25.7 million in the comparable 2018 period. Gross margin in the fourth quarter of 2019 was 18.5%, compared to gross margin of 12% in the fourth quarter of 2018. The Company recorded a net loss of $10.8 million or ($0.25) per basic and diluted share in the fourth quarter of 2019, compared to a net loss of $8.1 million or ($0.19) per basic and diluted share in the same period of 2018. Approximately $1.9 million of this variance relates to higher interest expense mainly related to the write off of deferred financing costs from our previous revolving facility, which was replaced in December 2019. In addition, during the fourth quarter of 2019, the Company incurred additional and nonrecurring lender-related fees and expenses related to the closure of a facility.
For the year ended December 31, 2019, Hudson reported revenues of $162.1 million, a decrease of 2.7% compared to $166.5 million for full year 2018. The decrease in revenue was primarily due to further pricing correction in 2019, partially offset by higher refrigerant sales volume and higher revenue from our DLA contract. Gross margin for calendar year 2019 was $17.2 million, or 10.6%, as compared to negative gross margin of $7.4 million for 2018. The Company's net loss for 2019 was $25.9 million, or $0.61 per basic and diluted share, which includes a $9.2 million non-cash inventory write down partially offset by $8.9 million of settlement proceeds from the working capital settlement arising from the acquisition of Aspen Refrigerants, Inc. ("ARI"), as compared to net loss of $55.7 million or $1.31 per basic and diluted share in 2018. Full year 2018 net loss includes a $35.9 million non-cash inventory write down.
Kevin J. Zugibe, Chairman and Chief Executive Officer of Hudson Technologies commented,
"2019 was another challenging year for Hudson and for the entire industry, as we saw further price erosion in nearly all refrigerants through September. However, it was also a year where we saw growth in our sales volume, reduction in costs and improvement in margins as we progressed through the year. Entering 2020 we have seen some encouraging signs in the industry as to pricing and we are currently seeing pricing for R-22 above $10 per pound. With the elimination of virgin production and importation in 2020, we expect to see tighter supply of R-22, and we believe our ability to reclaim and resell R-22 creates a tremendous opportunity to position Hudson to address the anticipated tightening of supply and become the leading producer of R-22.
"Additionally, during the fourth quarter, we improved our margins in 2019 over 2018 and believe we have the opportunity to further drive improved margins in 2020 as we replace higher priced inventory with lower priced product. We saw some of this improvement in 2019 as we reduced our inventory by 42% through a combination of selling off higher priced inventory and managing more towards a just-in-time inventory model. During 2019, the Company generated $34 million of cash flow from operations, which included $15.2 million of cash interest expense, and paid down $31 million of debt, including $14 million of long term debt in the fourth quarter of 2019. As of December 31, 2019, the Company had over $22 million of availability through its new revolving facility. The new term loan amendment and revolving facility will offer us flexibility in our operations for 2020 and the future.
"We're optimistic about the positive momentum we're seeing for the regulation of HFC refrigerants. There is growing bipartisan support for the American Innovation and Manufacturing Act of 2019, or the AIM Act, which, if enacted, would phase down HFC production. Whether the AIM Act is passed, the process first occurs at the state level, or through the actual ratification of the Kigali amendment, we anticipate a phase down of HFCs and we expect to see the establishment of an allocation system as well as a tightening in the supply/demand balance for HFCs that will likely result in increased pricing. We believe the phase out of R-22 and phase down of HFCs continue to represent tremendous growth opportunities for our company."
Mr. Zugibe concluded, "We have been a leader in the refrigerant and reclamation industry for a long time because we have learned to innovate and evolve during the challenging periods to become a stronger business. We remain focused on meeting the changing needs of our customers and on remaining agile in the face of fluid market dynamics as we work to increase our market share and advance our leadership position in the marketplace."
Conference Call Information
The Company will host a conference call and webcast to discuss the fourth quarter results today, March 4, 2020 at 5:00 P.M. Eastern Time.
To access the live webcast, log onto the Hudson Technologies website at www.hudsontech.com, and click on "Investor Relations".
To participate in the call by phone, dial (877) 407-9205 approximately five minutes prior to the scheduled start time. International callers please dial (201) 689-8054.
A replay of the teleconference will be available until April 4, 2020 and may be accessed by dialing (877) 481-4010. International callers may dial (919) 882-2331. Callers should use conference ID: 33437.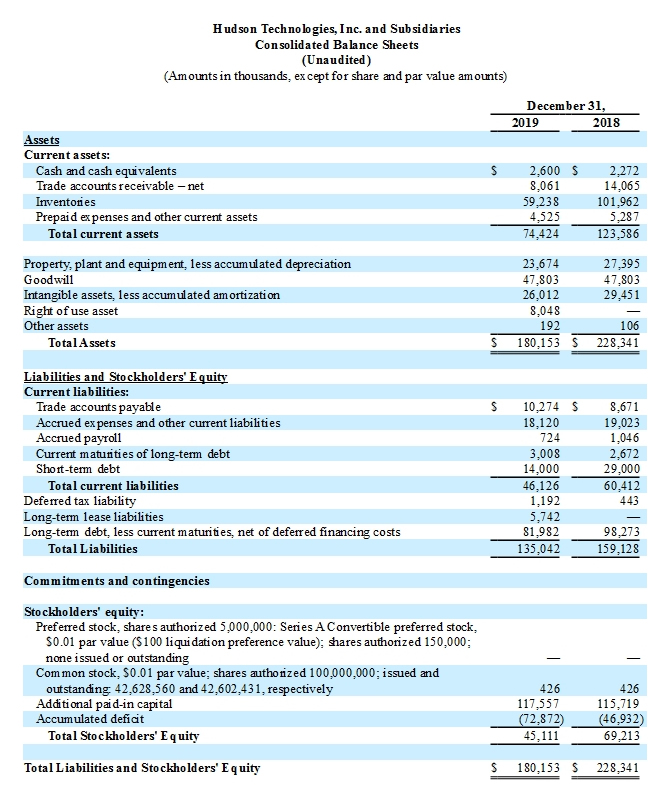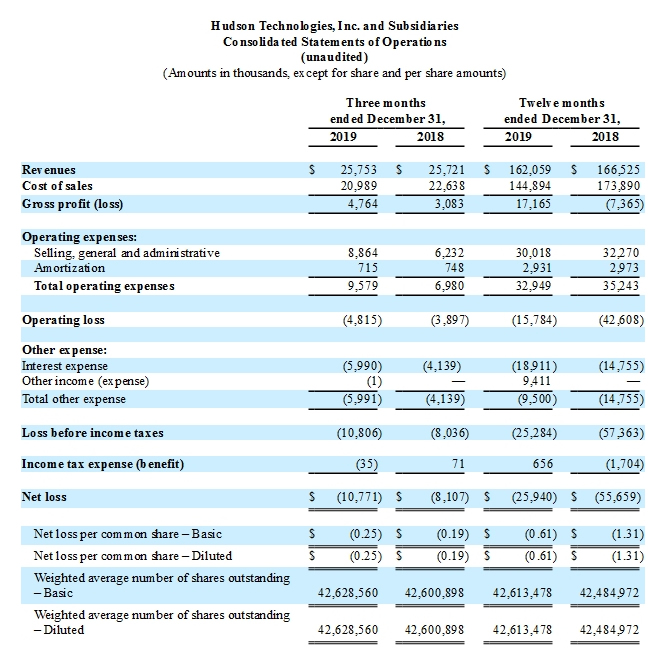 ---