Pearl River, NY – May 6, 2020 – Hudson Technologies, Inc. (NASDAQ: HDSN) announced results for the first quarter ended March 31, 2020.
For the quarter ended March 31, 2020, Hudson reported revenues of $36.4 million, a 5% increase compared to $34.7 million in the comparable 2019 period, primarily due to an increase in the volume of refrigerants sold. Gross margin was 23% for the first quarter of 2020 compared to 20% for the first quarter of 2019. The Company reported operating income of $0.4 million for the first quarter of 2020 compared to operating income of $0.2 million for the first quarter of 2019. Net loss for the first quarter of 2020 was $2.9 million, or ($0.07) per basic and diluted share, compared to a net loss of $4.0 million or ($0.09) per basic and diluted share in the first quarter of 2019.
Kevin J. Zugibe, Chairman and Chief Executive Officer of Hudson Technologies commented, "First let me say that the novel coronavirus disease, COVID-19, has had a dramatic impact on every person, business and industry, and Hudson is no exception. However, Hudson operates in a 'critical infrastructure industry' and is an essential business as defined by the U.S. government. We have kept our plants operating and have been effectively running our operations, while following all state and federal guidelines to keep our employees safe and healthy. Our priorities throughout this pandemic have been, and will continue to be, to ensure the health and safety of our employees; to keep our products in supply and to maintain the quality and safety of our products; to best serve our customers across all channels as they adapt to the crisis; and, to position ourselves to emerge strong when the crisis ends.
"As we look back on the first quarter, we saw an increase in volume over the same period last year, building on the increased volume we saw in 2019, and we are seeing some strengthening in the pricing of R-22. We are a few weeks away from the prime selling season so it is still early in the 2020 season to know how pricing will develop, and it also remains to be seen as to what effect the weather and the economic impact of COVID-19 will have on the price and demand for refrigerants. Additionally, during the first quarter, we improved our gross margins in 2020 over 2019 and believe we have the opportunity to further drive improved margins in 2020 as we replace higher priced inventory with lower priced product. We believe that customer inventories are low and, with the elimination of R-22 production and importation in 2020, we expect to see a tightening in the supply of virgin R-22. Finally, the Company's financial position and liquidity remain strong, with total liquidity at March 31, 2020 of approximately $27 million, which includes cash and revolver availability.
"As we proceed through 2020, we are concerned that the economic factors resulting from the various governmental restrictions that have been put in place could have a negative impact on the demand for refrigerants. We continue to focus on implementing various strategies to grow our leadership position in the refrigerant industry, and on leveraging our strong reclamation abilities and our presence at key points in the supply chain."
Conference Call Information
The Company will host a conference call and webcast to discuss the first quarter results today, May 6, 2020 at 5:00 P.M. Eastern Time.
To access the live webcast, log onto the Hudson Technologies website at www.hudsontech.com, and click on "Investor Relations".
To participate in the call by phone, dial (877) 407-9500 approximately five minutes prior to the scheduled start time. International callers please dial (862) 298-0850.
A replay of the teleconference will be available until June 5, 2020 and may be accessed by dialing (877) 481-4010. International callers may dial (919) 882-2331. Callers should use conference ID: 34600.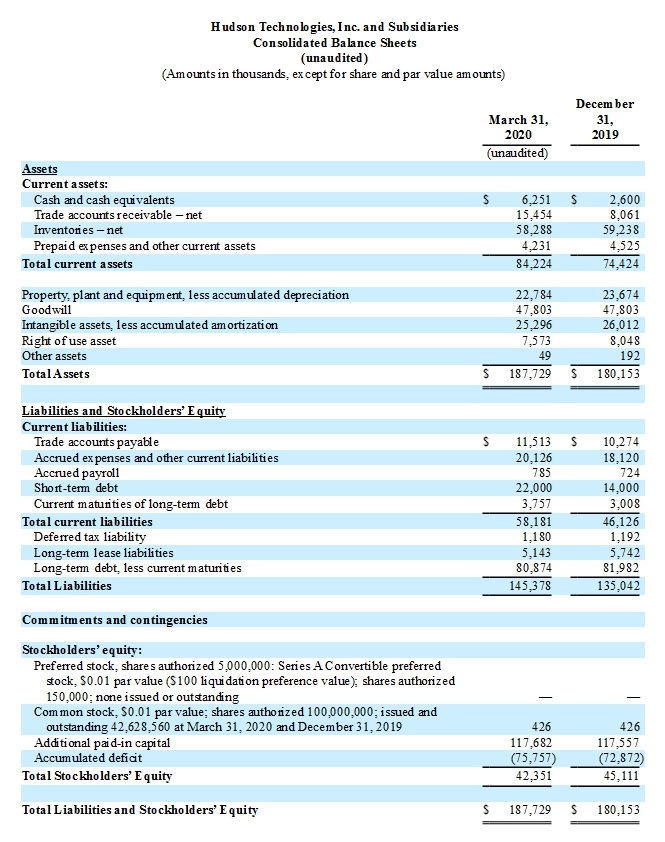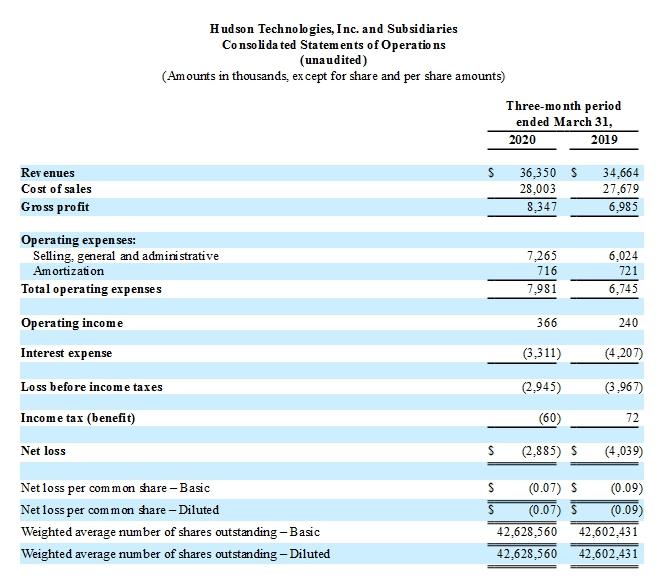 ---