Pearl River, NY – March 6, 2019 – Hudson Technologies, Inc. (NASDAQ: HDSN) announced results for the fourth quarter and year ended December 31, 2018. The financial results for both 2018 and 2017 include the operations of Aspen Refrigerants, Inc. ("ARI") which was acquired on October 10, 2017.
For the quarter ended December 31, 2018 Hudson reported revenues of $25.7 million, an increase of 5% compared to $24.6 million in the comparable 2017 period, which was primarily attributable to a 38% increase in the number of pounds of certain refrigerants sold, partially offset by price declines of certain refrigerants. Gross margin in the fourth quarter of 2018 was 12%, essentially consistent with gross margin of 12.3% in the fourth quarter of 2017. The Company recorded a net loss of $8.1 million or ($0.19) per basic and diluted share in the fourth quarter of 2018, as compared to a net loss of $5.2 million or ($0.12) per basic and diluted share in the same period of 2017. During the fourth quarter of 2018 there were no benefits for income taxes, compared to a $7.4 million income tax benefit during the fourth quarter of 2017 related to the Tax Cuts & Jobs Act.
For the year ended December 31, 2018, Hudson reported revenues of $166.5 million, an increase of 19% compared to $140.4 million for full year 2017. The Company had negative gross margin for 2018 due to a non-cash inventory write down of approximately $35.9 million and an additional amortization of inventory step-up in basis of approximately $3.7 million, as compared to a gross margin of 27% in 2017. The Company's net loss for 2018 was $55.7 million, or ($1.31) per basic and diluted share, which included non-cash inventory adjustments totaling approximately $39.6 million and non-recurring expense of approximately $6.1 million primarily related to the acquisition and integration of ARI, as compared to net income of $11.2 million or $0.27 per basic and $0.26 per diluted share in 2017. Full year 2017 net income includes the aforementioned $7.4 million benefit related to the Tax Cuts & Jobs Act.
Kevin J. Zugibe, Chairman and Chief Executive Officer of Hudson Technologies commented,
"2018 was a challenging year, characterized by one of the most difficult selling seasons we've experienced to date. In addition to severe price corrections in nearly all of the refrigerants we sell, a 'just-in-time' buying pattern emerged, which resulted in lower than expected demand throughout the traditional nine-month selling season. During the fourth quarter of 2018 however, we saw an increase in demand for certain refrigerants, an unusual development as our fourth quarter is typically characterized by negligible sales volume. While the demand increase was offset by lower pricing, we were pleased to see this increased order activity from our customer base.
"During the fourth quarter we implemented several efficiency initiatives which we expect to complete by the end of March 2019. The resulting annual benefit from these initiatives is expected to be over $3 million in cost reductions. Additionally, we believe we have the opportunity to drive improved margins in 2019 as we replace higher priced inventory with lower priced product. In addition, despite the headwinds we faced in 2018, the Company generated $36 million of cash flow from operations and paid down $37 million of debt in 2018.
"We're optimistic about the positive momentum we're seeing for the regulation of HFC refrigerants. With the anticipated phase down of HFCs, we expect to see the establishment of an allocation system as well as a tightening in the supply/demand balance that will likely result in increased pricing. We believe the phase out of R-22 and phase down of HFCs continue to represent tremendous growth opportunities for our company."
Mr. Zugibe concluded, "As we progress through 2019, we believe our longstanding customer base, diversified product offerings and efficient and expanded distribution network leave us well positioned to capitalize on the market opportunities we are seeing with existing and next generation refrigerants. We remain focused on meeting the needs of our customers and exceeding their expectations in terms of product availability and delivery as we work to increase our market share and advance our leadership position in the marketplace."
Conference Call Information
The Company will host a conference call and webcast to discuss the fourth quarter results today, March 6, 2019 at 5:00 P.M. Eastern Time.
To access the live webcast, log onto the Hudson Technologies website at www.hudsontech.com, and click on "Investor Relations".
To participate in the call by phone, dial (877) 407-9205 approximately five minutes prior to the scheduled start time. International callers please dial (201) 689-8054.
A replay of the teleconference will be available until April 6, 2019 and may be accessed by dialing (877) 481-4010. International callers may dial (919) 882-2331. Callers should use conference ID: 44519.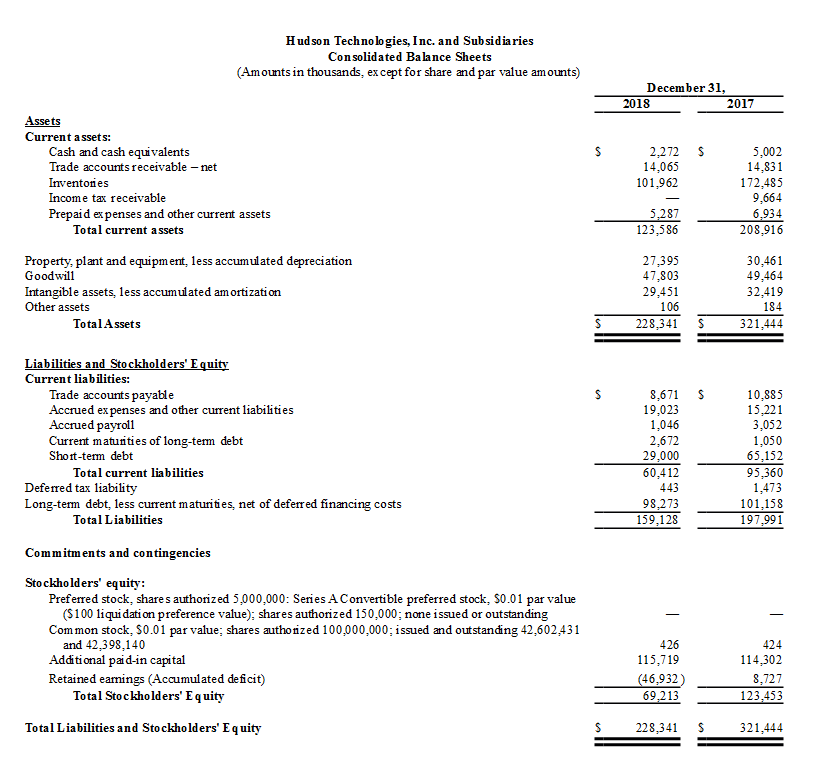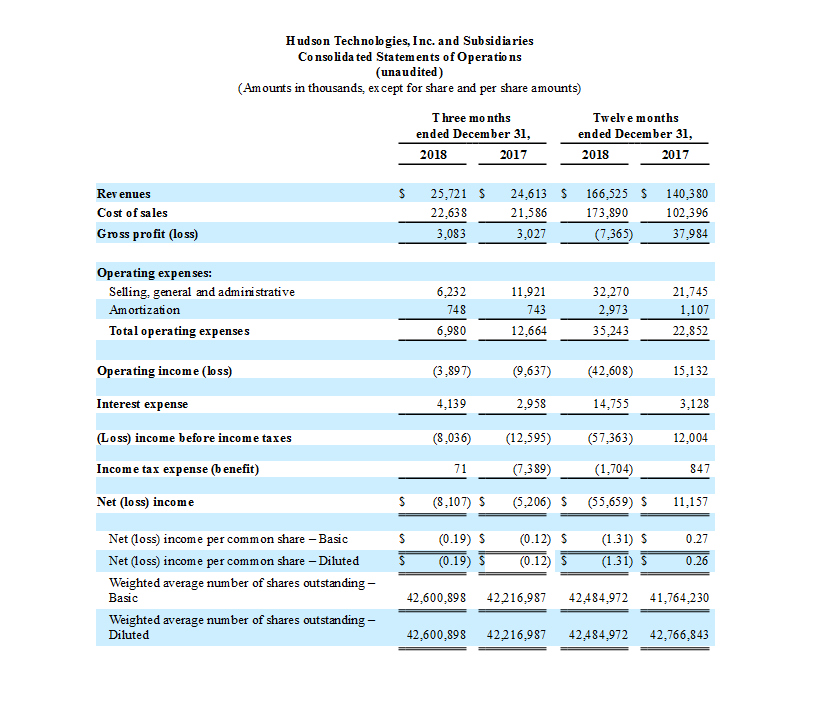 ---