Proper shipment of your refrigerant recovery cylinders is vital to ensure Hudson receives it intact, and in a safe and secure manner. Hudson handles large volumes of cylinder shipments daily, and your shipment will likely be handled many times and transferred to multiple trucks. We offer these Do's and Don'ts for good shipping practices to make the process of sending your recovered refrigerant to Hudson as easy and safe as possible.
Statistically most cylinders are lost during transit. Carriers blame poor packing for lost cylinders. Following the below guidelines will reduce the risk of cylinders being lost or damaged in transit. For a full version of our guidelines, click here.
DO
Skid cylinders like to like for uniformity
Use stretch wrap for skid wrapping. Ropes and tie downs do not work well. For high pressure cylinders use metal banding.
Always wrap the body of the cylinder, not the neck. If in doubt, the more stretch wrap the better.
When stacking cylinders, use a material in between the layers. Cardboard or plywood works best.
If using a box , keep the integrity of the box intact. Stack cylinders neatly.
Use solid pallets.
DON'T
Do not pack cylinders with valves facing each other. This is against DOT's Code of Federal Regulations and could result in a fine being imposed on the shipper. The freight company can refuse to take the shipment.
Do not use broken pallets, they will only further break during transit risking cylinders being lost or damaged.
If using a box, do not put cylinders into it in an unorganized manner. Always ensure cylinders are stacked neatly inside the box.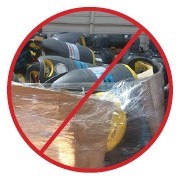 Shipping box is not intact, cylinders not stacked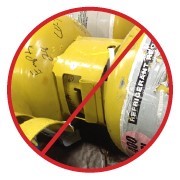 Cylinders shipped with valves facing each other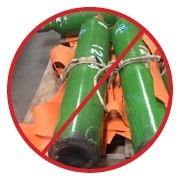 Cylinder not sufficiently secured and came loose during transit
Have a question or need additional assistance? Contact your account manager, their contact details can be found here https://www.hudsontech.com/locations/
---